---
lori B and Riccardo Morrison

what pARADOX dANCE does.
ideas from a form called Contact Improvisation are foundation for our work. 26 years ago, an american named Steve Paxton began some simple experiments with bodies in motion - investigations into gravity, momentum, suspension, the relationship between motion and mass. It was an attempt to ground movement improvisation in something beyond the emotional. Experiential physics?
Contact Improvisation has two basic elements, as the name suggests. The form is touch-based and decisions about speed, density, direction, level and shape are found and communicated between partners in the moment, and non-verbally. hence, the study is highly sensate and unapologetically subjective. the experiment and the observation take place in and through the body. As we dance, we're investigating complex mysteries - structural anatomy, architecture, time, alignment, flight, ergonomics, trust - from the inside out.
Riccardo Morrison has been practicing Contact Improvisation for over 20 years. he got involved in the study of weight and motion early on, in work as a furniture mover. he has studied, taught, and performed Contact Improvisation nationally and internationally, solo and in conjunction with other leading lights of the form. he is trained in Hakomi Method of Body-centered psychotherapy and has co-facilitated workshops with James Hillman, Michael Meade, and Robert Bly, among others.
lori B came back to arts relatively late after a 15 year hiatus. she danced and wrote songs as a child and young adult then took a hard right turn into other lives: cross-country truck driving; film industry freelance work for 10 years; the study and practice of psychotherapy (Columbia University social work graduate school and Rubenfeld Synergy Method).
at age 36, lori B began to dance again. in partnership with Riccardo Morrison, she began to teach and perform, nationally and internationally. eventually, lori and Riccardo joined Bruce Curtis to create pARADOX dANCE cOMPANY, composed of people with and without physical disabilities. in October 1998, lori B released her debut full-length disk, called Hurricane Child. Look for more information on this release at lori B's music website
---
Gisela Domschke
Gisela Domschke is a multimedia artist. Born in Sao Paulo, Brazil, she's now living and working in London.
After finishing her studies in Philosophy in the late 80's, she was painting and practising contact improvisation dance. Currently doing a PgD/MA Multimedia Communication Design at Central Saint Martins College, London.
Makes video and interactive digital artworks.
Exhibitions and Festivals
1998: PANDAEMONIUM, London, UK
1998: NAVARRA Multimedia Festival, Navarra, Spain
1998: VIDEOBRASIL, Sao Paulo, Brazil
1998: WORLD WIDE VIDEO FEST, Amsterdam, Holland
1998: FIM, Salvador, Brazil
1998: IMPAKT, Utrecht, Holland
1998: LOVEBYTES, Sheffield, UK
1997: BACKSPACE, London, UK
1997: VIDEONALE, Bonn, Germany
1997: SPLIT VIDEO FESTIVAL, Split, Croatia
1997: WORLD WIDE VIDEO FESTIVAL, Amsterdam, Holland
1997: FESTIVAL VALLEE BLANCHES, CICV, France
1997: PLASMAVISION, Paris, France
1996: VIDEOBRASIL Festival, Sao Paulo, Brazil
1996: STEIN Vrij Media Kafé, Amsterdam, Holland
1996: GALERIE MULTIMEDIA, Paris, France
1996: WORLD WIDE VIDEO FESTIVAL, Den Haag, Holland
1996: Salon Multimedia Lille, France
1995: individual - GEN LOCK, Geneve, Switzerland
1995: Via #2 - PROCREART, Paris, France
1994: Prix Féneon, Paris, France
1994: Town hall and Public square, Penne d'Agenais, France
1994: "Les Femmes Illuminent la Nuit", Berlin, Germany
1994: Gillette, Nice, France
1994: Beaurepaire, France
1993: individual - Itaugaleria, Penapolis, Sao Paulo, Brazil
1992: performances "The Airplane" et "Fishing you",Sao Paulo, Brazil
1992: performance "The Musical Box", Sao Paulo, Brazil
1992: Contact Improvisation performance, Centro Cultural de Sao Paulo,Brazil
1992: Contact Improvisation performance , Pinacoteca Estado S. Paulo, Brazil
1992: Museu Brasileiro de Escultura, Sao Paulo,Brazil
1992: individual - Itaugaleria, Campo Grande, MS, Brazil


---
Bruce Gilchrist
Bruce Gilchrist studied Fine Arts in the early 1980's after studying science in Glasgow, subsequently working as a Research Assistant for Unilever Research Laboratories and later as a Marine Seismic Technician for the Western Geophysical Company of America. He based himself in London in the late 1980's.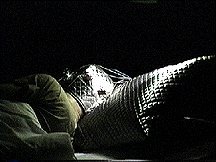 A seminal work, working with the unconscious body 'The Enigma of Good Health' was shown at the Air Gallery, London (1988). An Arts Council Research and Development grant enabled him to visit the Clinical Psychology dept. at the University of Texas, Austin (1993), where he was introduced to biofeedback technology and the methodology of the sleep lab. which he has since used as a way of eliciting expression from the unconscious and subconscious body. A series of performances entitled, 'A Way of Asking for Reasons' were inspired by the extraordinary work of the consciousness researchers, Cohen and Price, who were engaged in developing communication conduits between lucid dreamers and observers in the waking world.
In collaboration with the computer software programmer, Jonny Bradley from Automatic Television, he was awarded the first ICA/Toshiba Art and Innovation Commission (1995), which led to the production of 'Divided by Resistance', a performance work whereby members of the public attempted to communicate with the sleeping performer by inputting codified messages by way of mild electric stimuli during periods of REM sleep. The consequences of these 'input actions' were experienced by members of the audience via a large vibrating chair -'The Seat of Consciousness'.
In 1997, he spent several weeks working in a forest in Finland, connecting various indigenous plants to specially constructed galvanometers, producing acoustic signals. This sound material, alongside video footage of the wired up plant material was later played back to the public at the Muu Media Base in Helsinki. This work, which came to be known as 'Sonic Bloom', was developed to include tactile responses elicited from the electrical stimulation of plants, referencing the pioneering work in plant response of Cleve Baxter from the 60's. He represented the U.K. in Lisbon for Expo`98, creating a sonic work from the plants in the Garcia de Orta Botanical Gardens.
In February 1998, he presented a performance work using electroencephalograph and trance mediums, for the exhibition, 'Twilight', at the Contemporary Arts Centre, Vilnius, Lithuania. The Arts Council New Collaborations unit are funding a large scale work exploring the relationship between consciousness and weather, to be presented in Cornwall, U.K., to coincide with the total solar eclipse, August 1999. In collaboration with the software artist, Jonny Bradley, the London Arts Board are supporting an on-going research project (ArtEmergent: Looking at Primitives), which will include the development of an on-line database of neurophysiological data elicited from (members of the public) visual perception of autostereograms.
---
Extract from "Low Tide", Writings on Artist's Collaborations, by Jeni Walwin:
"Gilchrist pursues the notion of ceremony to such an extreme during his performances that it is not always easy to retrieve the gracious body. We are aware of altered states of sleep, of the possibility of uncovering despair in the subconscious. We are uncertain about making the journey into the scientifically unknown. It is hard to find the subtle channels of access. There are two possible responses to this. We may feel alienated by the technology and daunted by the possibility of crisis which we refuse to acknowledge, or we may on the other hand see in the work a reflection of our own impossibility and in so doing understand something of what is meant by `making strange`and more a little way towards a perception of what was hitherto unknown or unseen. In these performances the boundaries between science and art, between art and life, between the conscious and the subconscious minds have become blurred. It is not always clear what position we are expected to occupy in relation to the work. But it is this uncertainty about boundaries and categories which gives the work it's existence, which empowers and offers potential rather than entraps and defines. We cannot content ourselves with merely being present at one of Bruce Gilchrists' performances, we must enter the space prepared to identify our responses and open ourselves up to the experience of doing so."
---
Antony Gormley
Antony Gormley is a winner of the Turner Prize. A great deal of interest was generated with the assembly last year of his Angel of the North, the largest free standing sculpture in Britain. (The artist is seen here with a prototype.) Gormley is concerned with the body, or more properly with the space the body inhabits. "that space rarely visited that lies beyond dimension, beyond good and evil yet contains them both."

By attempting to place our body in relationship to one of Gormley's works we become aware of that physical, mental and spiritual inscape we all inhabit. While many of Gormley's pieces begin with a cast of his own body they move beyond the personal or idiosyncratic into something more universal. A quite different work, Field, has been created as a community project in several locations around the world and involves the making of tens of thousands of small terracotta figures that occupy a gallery space, staring out at the visitor.
---
Stuart Hameroff
Stuart Hameroff M.D. is Professor, Departments of Anesthesiology and Psychology, and Associate Director, Center for Consciousness Studies at the University of Arizona in Tucson. He spends much of his professional life in surgical operating theaters, practicing and teaching clinical anesthesiology. His research has revolved around the problem of consciousness, and for the past 4 years he has collaborated with Sir Roger Penrose on a specific model of consciousness involving quantum computation in microtubules within the brain's neurons. Hameroff has published over 100 papers, and authored or co-edited 4 books related to consciousness. See his website at www.u.arizona.edu/~hameroff
---
Basil Hiley
Basil Hiley, Theoretical Physics Research Unit, Birkbeck College, University of London.
For over thirty years David Bohm and Basil Hiley worked together on fundamental problems of theoretical physics. On area of their work is summed up in the book The Undivided Universe. More recently Hiley has been thinking about ways in which time can be introduced into physics in a truly dynamical way as well, as developing algebras which may be of importance in formulating a deeper theory out of which quantum theory and relativity will emerge as limits.
---
Siraj Izhar - and Strike
strike <named after the Eisenstein film>
Set up strike at the Public Lavatory in Spitalfields 1992.

strike>:
Zero models of representation. 'the world is its own best model'
Move away from any given models of representation.
cultural appropriation <-------------> cultural renewal
De Certeau's distinction of tactics and strategy.
strike is about progressively creating cultural space which defines its own agenda, not being fixed within any given structures of representation or opposition.
i.e. Not the Temporary Autonous Zone
Working with artists; difficulty of getting them to shift from learned paradigms about what art is; much of the collaborative work would remain invisible as under current definition of art
Walking, Talking
Recovering and articulating through and as art.
strike never advertises in art magazines etc.
strike does not curate artists; rather strike undertakes projects with artists
cf. The 'Artist' as representation; as subject. Too fixed.
Role playing artist: one of the extreme forms of regimentation available today
The 'subversive' artist as a necessary part of the power structure's spectrum. Dispensing with that role.
cultural appropriation <------+------> cultural renewal
Visual eco-system. An artificial construct.
Constructing the system through one show to another. The continuity of the project.
Food chains; meaning chains. Analogies.
Voluntary/involuntary chains.
strike>: institutional strike
cf Enlightment institutions
evolve own definition of institution
processes of evolution, devolution.
synchronicity:
stratas of meanings systems. Sifting through. Connecting up.
synchronicity:
audience
Voluntary and involuntary associations.
urban bodies and anti-bodies
synchronicity:
practice: art as activity, art as product.
most reviewers would review strike's work purely as products,
conventional art consumption, preset frames for criticism>
strike> duration
at the Public Lavatory Summer 1992 to Autumn 1995 <abrupt termination>
Due to re-open in July 1999 as a 24 hour digital venue. Conceived as an art space that never closes once it opens. Enmeshed in everyday life. The new space will use new technology as a means to extend strike's agenda. It will also be financially self-sustaining. The lavatory is to be part of a cellular network, with parallel strategies:
parallel strategies IN BRIEF:
sTALk, virtual stalk>
Creating a matrix for new curation.
Besides artist- curators, I have invited swatters from the Pure Genius site, bankers and financiers who have a mind of their own, psychoanalysts and physicists.
Each sTalk is an experimental event in itself.
strikeVAN>
territorial and mobile aspect of strike a van equipped with projectors etc, the van is linked to the 24 hr digital space.
Extending out the eco-system.
strike@fashion street>
fashion st is to function as a 'pre-space', for works open to intervention, dialogue, speculative processes, to heighten a state of fluidity around the idea of art.
I plan to start doing strike work there first thing after Christmas.
---
Peat studied at Liverpool University and carried out research at Queens University, Canada and the National Research Council of Canada. In 1971-72 he spent a sabbatical with Roger Penrose and David Bohm and has continued with his interest in fundamental problems in theoretical physics.
His interest in Art and Science began in his student days and continued in Canada where he invited a number of artists to interact with scientists at the National Research Council of Canada. Peat is the author of several books. His essays and ideas can be all found on this Web page.
---
Michael Petry
Michael Petry obtained a joint degree in mathematics and fine arts in the United States and after moving to England has continued to explore scientific concepts and the scientific attitude by means of videos, sculptures and installations. While he has constructed visual equivalents for Black Holes and Superstrings he has also explored the contrast between the scientific and the everyday human approach to such questions as time, history and love. In The Chemistry of Love a maze of chemical flasks contain the elements of the human body in their correct proportion. Projected onto the surface of each flask is a video in which people are speaking of love. The Garden of Enlightenment consists of a set of fiber optic cables entering the gallery room. These cables each contain pixels from a video of a man who is attempting to understand a failing relationship. Since Petry employed notions of bifurcation and chaos theory in connecting pixel to fiber a visitor who attempts to recover the entire image by gathering the pixels together will ultimately be frustrated, not simply because his life is not long enough, but that of the universe are insufficient to sort out and fully recover the ever-changing data.
His latest work TWISTOR won 2nd prize at the Papier Biennale in Duren Germany last month.
His newest work, THE History of the World, on the origin of Humans and their desire as written about by Aristophanies 3000 years ago, is currently on exhibit at the Rice Art Gallery, Houston, Texas from January 21 - February 29, 1999. More information is available at the Rice Gallery website.
Michael Petry's work is discussed in Peat's essay Art and Science: Marriage or Illicit liaison?
---
Martha Senger
Extracts from "goodman engage" a quantum performance of the real
In the early 70's I left painting to take up "aesthetic bootstrapping" - a praxis that reintegrates form with life. It came about when I was drawn into a vortex of shared envisioning and action with a group of other artists fighting to save our funky hotel home in San Francisco, the Goodman Building. What started as a means to survival turned into a compelling end in itself, a teleological process piece, as our engagement with the bureaucracy evolved into a dialogue in which we as the System's Other were given a chance to see and say what our differences were and describe the rich but frugal physical conditions needed to sustain our integrated way of life.
For a decade our shared vision and praxis deepened as we responded to the City's reductionist but materially bloated offers & arguments with holistic responses that we bootstrapped in our embattled, close-knit cloister, meeting once a week to figure strategies, expand our service to the outside community & each other and create collective art works, in a fractal cascade of deepening meaning that drew many hundreds of supporters into its attractor.
We lost the building because the developer-serving bureaucracy didn't want to acknowledge the truth of our more-with-less plan but the vector of our struggle held as we carried our vision and the grants we'd accrued to recreate the building's complex functioning at another site - a newly constructed building, Goodman2. Modeled on the topology of the torus, the hyperspace geometry that allows for the fractal unfolding of mind, G2 is designed to restore the circuit of vision & practice - a nonlinear, co-evolutionary structure that links the ecologies of mind & mass, form & chaos, in an integral, open ended equation - a higher dimensional turn of the design spiral I described in an article, "G2: Chaos Architecture, A Metapattern That Connects," that was published in Architecture California, the state journal of the American Institute of Architects.
Recently I formed the G2 Institute to explore the premise that the collective, archetypal imagination has the potential to create syntheses between new science, art & life - syntheses with the potential for activating a leap to a new mind and new institutions for the 21st century.
These and related ideas will be explored and synthesized within the context of an integral aesthetics derived by explicating the ordering patterns and processes that art shares with postmodern science and philosophy.
Superceding the modern era's closed art circuit, the proposed meta-integration would release a multiply-founded aesthetic reality principle - a science of the beautiful - to deconstruct the partitions that separate subject from object and the realm of the ideal from the "facts" of life.
To free Being from oblivion Heidegger says we must "liberate the open and establish it in its structure." This calls for a transindividual narrative praxis, an inaugural poetic positing that extends art making into world-making - a reconstructive sublime.
---
Alan Watkins
Alan Watkins trained at the University of London and has a first class honours degree in psychology in addition to his medical degree and he is just finishing his Ph.D. in immunology. He is a former Senior Registrar and Lecturer in Medicine and now an Honorary Research Fellow at Southampton University Department of Medicine.
He has a specialist interest in Mind Body Medicine and has edited a textbook on this subject for Churchill Livingstone. He has published a number of scientific papers in a wide range of journals on the subject of perceptions, emotions and immunity and is the founder of the Brain Immune Network Group (BING). BING is a European forum for clinicians and scientists to share their ideas and research into the dialogue between the central nervous system and the immune system. He has established an external scientific advisory board for the Bristol Cancer Help Centre and has been a key member of The Price of Wales' initiative on Integrated Health Care.
Having worked in virtually all the front line medical trenches on three continents he recently stepped out of his role admitting seventy medical emergencies a day to an NHS hospital to pursue his interest brain heart communication. He now is a partner in his own company consulting to some of the world's largest organizations on the issue of emotional intelligence, health and performance.
Degrees, Qualifications and Education
Attended Royal Grammar School High Wycombe (1976-1980)
Charing Cross & Westminster Medical School, University of London (1980-86).
B.Sc. Psychology - 1st Class Honours University of London - 1983
MD - University of London - 1986
PhD - University of Southampton - (submitted 1999)
Organisational Consultant in Human Performance & Occupational Health (1997-1999).
Honorary Research Fellow University Medicine, Southampton (1997-98).
Lecturer & Senior Registrar Southampton/Bournemouth Hospital (1995-97).
MRC Training Fellow & Honorary Registrar, University Medicine, Southampton (1992-95).
Upjohn Travelling Fellow (1994/5)
SHO in General Medicine, Southampton General Hospital (1990-92).
General Practitioner in Queensland, Australia (1989).
SHO in A & E, Obs & Gynae, Salisbury Infirmary, Charing Cross Hospital & John Radcliffe Hospital, Oxford (1987/8).
House Physician/Surgeon, Charing Cross Hospital/Salisbury Infirmary (1986/7).
Recent Books & Papers
Watkins AD, Dacher ES. Chapter 1 in Effective Interventions for Health and Disease Prevention. Series editor Lydia Temshok, Harwood Academic Publishers, New York 1999.
Watkins AD, Pert C. Chapter 3 in Effective Interventions for Health and Disease Prevention. Series editor Lydia Temshok, Harwood Academic Publishers, New York 1999.
McCraty R, Barrios-Choplin B, Rozman D, Atkinson M & Watkins A. Integrative Physiological and Behavioral Science 1998 vol 33 (2) 151-170.
Watkins AD. Editor: Mind-Body Medicine: The Clinicians Guide to Psychoneuroimmunology. Churchill Livingstone, London. 1997.
Watkins AD. Neuropharmacology. Chapter 28, p501-513 In Allergy and Allergic Diseases. Kay AB (ed) Blackwell Scientific Publications Ltd 1997.
McCraty R, Watkins AD. 1996. Autonomic Assessment Report Interpretation Guide.: Planetary Publications, Boulder Creek, CA.
Watkins AD. Contemporary Context of Complementary and Alternative Medicine. Chapter 4 in Fundamentals of Complementary and Alternative Medicine. Micozzi M (ed) Churchill Livingston, London 1996.
Watkins AD, Hatfield CA et al. Am J Respir Cell Mol Biol 1996. 15:20-34.
McCraty R, Atkinson M, Rein G, Watkins AD. Stress Medicine 1996 12: 167-175.
Watkins AD, Harbuz M, Grossman A, Smith T. J Neuroimmunol 1996 67: 71-73.
Watkins AD. Quarterly Journal Medicine April 1995. 88:283-294.
McCraty R, Atkinson M, Tiller WA, Rein G, Watkins AD. Am J Cardiol 1995: 76(14): 1089-1093.
---
Todd Watts
Todd Watts is an artist working in the photographic medium. In different series of works Watts has explored in what ways we would come to visualize and understand the technological futures that are being projected for us. What would it mean, for example, to remain recognizably human as the body is mutated genetically? How would we structure our visual experience if we lived in outer space or on other planets? More recently Watts has explored the human visual need to make patterns by arranging complex collections of objects - such as the silhouettes of birds and divers - on the vertices of a non-repeating Penrose tiling pattern.
Todd Watts's work is discussed in Peat's essay New Lamps for Old.

Top | Philosophy | Conferences | Workshops | Pari, Italy | Home
Bibliography | Forums | Interviews | Ideas | Biography | Conferences
Contact F. David Peat