Infinite Potential
The Life and Times of David Bohm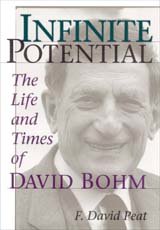 This is the first biography of David Bohm, brilliant physicist, explorer of consciousness, student of Oppenheimer, friend of Einstein, and enemy to the House Un-American Activities Committee. As both his friend and fellow physicist, no one is better positioned than F. David Feat to tell the story of this extraordinary scientist, one of the most original thinkers of the second half of the twentieth century, a man who made influential contributions to physics, philosophy, consciousness, psychology, language, and education.
In Infinite Potential, Peat describes how David Bohm came to believe that the traditional interpretation of quantum mechanics--with its barriers of uncertainty--was incomplete. In a bold step that turned quantum mechanics on its head, he introduced the "implicate order," which created a storm of controversy, yet may well have opened the door to a much deeper theory of the nature of reality. In these pages, the general reader will obtain the first clear, non-mathematical explanation of Bohm's brilliant theory, which gave new hope of finding the elusive "hidden variables" theory, the missing piece of the quantum mechanics puzzle for which Albert Einstein had spent decades searching. As Peat shows, Einstein had such a high regard for Bohm and his work that he made Bohm his close collaborator and friend.
But Bohm the scientist was also Bohm the courageous human being. Born in a small town in Pennsylvania, he began his career as an American physicist, but was forced to give up his U.S. citizenship and flee America's borders by "Tail Gunner Joe" McCarthy's anti-communist witch hunters. This book captures the suspense of Bohm's steadfast refusal to bow before McCarthy's inquisitors and betray his colleagues, and the suffering he endured in his subsequent exile and years of wandering before he finally found sympathy for his plight and support for his theories at Birkbeck College in England.
Years later, when David Bohm grew older and more philosophical, he formed another collaboration that lasted many years, this time with the great Indian mystic Jiddu Krishnamurti. Together, the physicist and the philosopher delved into the farthest reaches of the nature of consciousness and human transformation, of reality and transcendence; as Peat clearly shows, for Bohm physics alone was never enough to describe the nature of our existence.
See also Science, Order and Creativity

Publishing Information
F. David Peat
Hardcover edition, 363 pages
Helix Books, Addison-Wesley Publishing Company, Inc.
October 1996
Dimensions (in inches): 1.22 x 9.45 x 6.37
ISBN 0-201-40635-7
Paperback edition, 357 pages
Perseus Books, Addison-Wesley Publishing Company, Inc.
November 1997
Dimensions (in inches): 1.01 x 9.20 x 6.09
ISBN 0-201-32820-8
order this edition now

Praise for Infinite Potential
Infinite Potential. Library of Science April 1997 selection.
"I have long hoped that someone would write this book, a thouroughly reported, compellingly written biography of one of this century's most fascinating and important scientists. F. David Peat has finally given David Bohm his due."
-John Horgan, author of The End of Science: Facing the Limits of Knowledge in the Twilight of the Scientific Age
"Peat's probing exploration of Bohm's quest for an "implicate order", a deeper reality beneath the surface appearance of things, helps explain his influence on writers, artists, psychologists and philosophers as well as open minded physicists."
-Publishers Weekly
"Peat writes with compassion and warmth about the famous physicist. Peat's excellent biography is highly recommended."
-Library Journal
"Full of insights into the personality, family life, and friendships of Bohm, Infinite Potential is required reading for anyone interested in the development of quantum theory - a theory to which Bohm's contributions are still being discovered."
-Library of Science
"David Peat's Infinite Potential is a meticulously researched account of Bohm's life and ideas. His book's main achievement is placing all this against the background of Bohm's often painful existence...an unremitting honest record."
-The Globe and Mail
"F. David Peat has produced the first biography of this complicated man and he draws a complex portrait. The book tells a gripping tale of Bohm's geographical, intellectual, and emotional odyssey. There is high drama in the picture of Bohm. You cannot be an explorer without sometimes taking great risks."
-David Mermin - American Journal of Physics
"A biography that is intriguing from start to finish. By the end of the book the reader will surely be convinced that David Bohm is one of the most remarkable of that notable band of twentieth century scientific geniuses who changed the world and our thinking about the world forever."
-Ottawa Citizen
"Peat has written a moving personal account...a scholarly account of a life in which science and mystical holism intertwine."
-The New Scientist
"The strength of this book is the insight it gives us into the personal aspects of the major periods of Bohm's life. The picture that emerges from Peat's biography is of a man of enormous talent and accomplishment. This book makes a prima facie case for Bohm as a "fascinating and important scientist" and is certainly well worth reading."
-Physics Today