Science, Order and Creativity
New edition with additional chapter
and new preface by author F. David Peat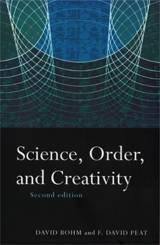 Science was born out of the awe men and women have long felt for the universe and their place in it. In this thought-provoking new book, two of today's foremost scientific thinkers contend that science has lost its bearings in the last century in favour of a narrow, abstracted, fragmented approach to nature and reality. Dr. David Bohm, who has worked alongside Oppenheimer and Einstein, and Dr. F. David Peat, author of Synchronicity: The Bridge Between Matter and Mind, propose a return to greater creativity and communication in the sciences. They ask for a renewed emphasis on ideas rather than formulae, on the whole rather than fragments, on meaning rather than mere mechanics.
Tracing the history of science from Aristotle to Einstein, form the Pythagorean theorem to quantum mechanics, the authors offer intriguing new insights into how scientific theories come into being, how to eliminate blocks to creativity and how science can lead to a deeper understanding of society, the human condition and the human mind itself. Science Order and Creativity looks to the future of science with elegance, hope and enthusiasm. And it shows how each of us can work creatively in our own lives to help bring new meaning and order to the universe we share.
See Also Infinite Potential: The Life and Times of David Bohm

Publishing Information
David Bohm and F. David Peat
second edition
library binding, 328 pages
Routledge
April 2000
ISBN 0415171822
order this edition now
second edition
paperback, 328 pages
Routledge
March 2000
ISBN 0415171830
order this edition now
This book will be published in April 2000. You can pre-order a copy today from Amazon.com at a special discount price and it will be shipped to you as soon as it is available.

Praise for Science, Order and Creativity
"An outstanding probe of the creative process in science."
-Marilyn Ferguson, author of The Aquarian Conspiracy
"A rare combination of depth and breadth, this probing book stirs both the mind and the heart, and attracts and inspires on many levels: philosophical, scientific, existential and spiritual."
-Dr. Renée Weber, author of Dialogues with Scientists and Sages: The Search for Unity

Table of Contents:
Preface
Introduction
Chapter 1 - Revolutions, Theories and Creativity in Science
Chapter 2 - Science as Creative Perception-Communication
Chapter 3 - What is Order?
Chapter 4 - The Generative Order and the Implicate Order
Chapter 5 - Generative Order in Science, Society, and Consciousness
Chapter 6 - Creativity in the Whole of Life
Chapter 7 - The Order Between and Beyond

Author Comments:

Interest in Bohm's work and ideas continues after his death. On the scientific front Bohm's former colleague, Basil Hiley, continues to develop ideas related not only to the quantum potential but to notions of a pre-space structure. In terms of his philosophy Bohm has left us such notions as the implicate and generative orders to unfold. It was therefore a particular pleasure for me to work on this new chapter to Science, Order and Creativity and outline and explore the ideas of an "order between and beyond" that Bohm and I discussed in the years before his death.